Cruises Tailored For You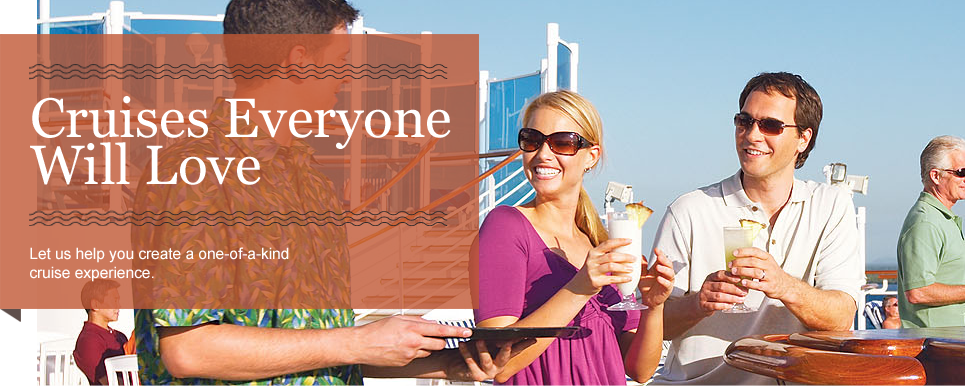 Popular Cruises


One of the greatest aspects of cruising is there's something for everyone. Popular cruises offer great value for your dollar and an incredibly diverse range of amenities and activities. On board, experience exceptional service and a variety of dining options.

All-Inclusive Luxury


Enjoy exceptional personal service and attention to detail on an all-inclusive luxury cruise. Select from a variety of itineraries for discerning travelers who may have already cruised but are looking for new experiences.

Small Ship & Expedition Cruising


The casually elegant atmosphere of small ship cruises is friendly, relaxing, and spontaneous. With access to smaller ports and many inclusive offerings.

River Cruising


A river cruise offers the convenience and luxury of an ocean cruise combined with the in-depth experience of a land tour. Offering an intimate setting, a journey along the river is just the right pace for getting the lay of the land.

Hosted Sailing


Enjoy additional amenities and the benefit of sailing with an experienced personable host who is on board to ensure your cruise is more enjoyable. An on board "By Invitation Only" party provides the opportunity to meet fellow travelers and share stories of your discoveries ashore.

Family Cruising


Today, many cruise lines make sailing with family convenient and enjoyable. From the active tike, to the freedom-loving teen, there is a wide selection of activities fit for every individual on board. Even parents and grandparents have diversions of their own to choose from. Cruising has never been more family-friendly.

Specialty Cruises


Delight in your own specific interests on a specialty cruise. Whether you enjoy cooking or music, art or history, a specialty cruise offers a truly personal and enhanced vacation. Explore your passion, both on board and ashore, with custom activities and lectures led by local experts and professionals.

Customize Your Vacation


Pre and post cruise stays, private transfers, specialized shore excursions, we can help you choose the best options to fit your interests.
Only when you cruise with us can you enjoy our exclusive benefits that will truly enhance your vacation. These luxurious services and amenities are available on thousands of voyages and destinations.